London Wasp Control & Wasp's Nest Removal
Wasps build their nests close to human habitations, and will react very aggressively when their hive feels threatened, and so it is no surprise that wasp infestations can be both very common and very distressing.
Like bees, wasp stings are able to cause an allergic reaction and, in some cases, anaphylactic shock. Unlike bees each wasp is able to sting multiple times, injecting more venom into the bloodstream, which only increases the danger.
Victims of a wasp infestation can often stumble upon nests completely by accident, upsetting hives that have been attached to loft-hatches, or even cutting into them while mowing the lawn. There can be up to 25,000 wasps in a single nest, and as such it is incredibly difficult to live in the same space as them without some confrontation, since the potential for aggravating the swarm is so high.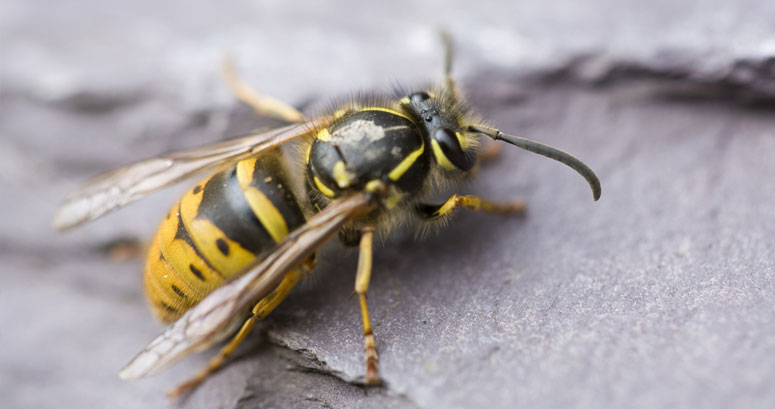 Wasp Proofing and Nest Removal
Wasps can build their nests very rapidly, and will often do so inside of homes without much notice, often leaving no other option but removal.
Wasps are more difficult to deal with than bees, and the treatment of the wasps and the removal of their hive is thus a two-part process.
London Insect Control typically uses an insecticidal dust called Bendiocarb to get rid of wasps, as it is one of the only substances known to have any real effect. Store-bought insecticides are not only ineffective, but can also anger hives; our technicians have the necessary chemicals, protective gear and understanding of vital safety protocols to deal with wasps with minimal fuss. Only professionals are able to safely use the substance in the high concentrations needed to destroy wasps, as it requires a full awareness of surrounding environmental factors.
In addition to the wasps themselves, the nest itself can pose considerable problems, as it can often be located in unreachable areas. It can be extremely complicated to apply the necessary chemicals and to remove the hive without causing damage when it is nestled in a hard-to-reach place, and an imperfectly-destroyed nest can be just as troublesome as one that is intact.
Our technicians will always consult the company's numerous past experiences and whatever specialist knowledge is necessary to perform a clean, complete removal.
Our Expert Wasp Control Technicians
Given the frequency with which wasp infestations occur, London Insect Control has a very long history of dealing with unique and difficult examples of them.
Our technicians have seen just about every variety of infestation and have successfully removed nests from even the most inaccessible parts of custumers' properties.
We have a large store of past cases studies we are able to draw from, and London Insect Control's consultations are able to provide you with a far fuller understanding of the situation and its risks than is otherwise available.