London Silverfish Pest Control
Silverfish (also known as fishmoths) do not in themselves pose any real danger to humans, but their capacity to damage property and valuables makes them an extremely irritating presence in a home.
They survive on mould, food matter and sugars contained in many seemingly-inedible household items, including but not limited to:
Wallpaper and wallpaper glue
Photographs
Books
Clothes
Loft Insulation
Drywall
A few silverfish can be a nuisance, but a large enough silverfish presence can be immensely damaging and costly, as they are able to ruin valuables and make redecoration or repair necessary where they have attacked the house itself.
While they pose little real danger to the structural integrity of a home, their presence often indicates underlying problems with the house itself and its environment.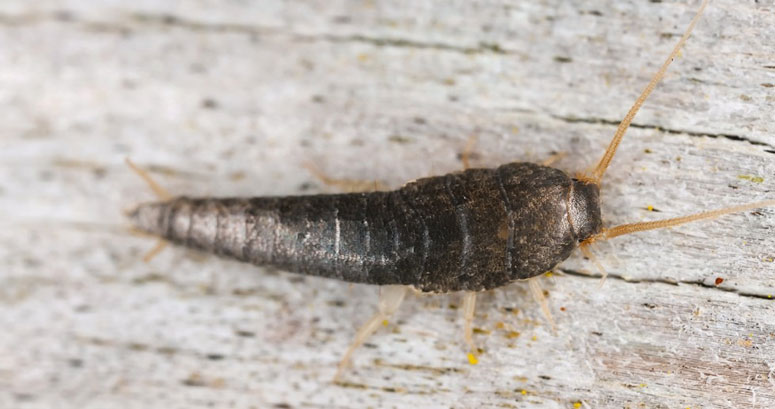 Silverfish Proofing and Removal
Silverfish are very difficult to keep out of a house, as they can often be carried inside within cardboard boxes, which they feed upon, and their small size means they can enter through the smallest fissures and hide very easily.
Silverfish thrive on damp conditions and survive on scattered dust, paper and human hair, so it is possible to minimise their presence by ensuring your house is properly cleaned and that your plumbing is in order.
When a house is ideal for silverfish infestation, however, there is little that can be done to prevent their continuing presence. They breed rapidly, their hiding places are very difficult to locate, they can survive for a long time when deprived of food sources and they are typically nocturnal, only leaving their crevices at night when the occupants of a home are asleep.
When dealing with silverfish, London Insect Control have learned that a holistic approach is necessary, since environmental factors play such a large part in both preventing and eliminating an infestation.
A comprehensive regimen of treatments, including traditional insecticides and Diatomaceous Earth, is used to control the insects themselves, while our technicians will also work to determine the factors that have led to the infestation in the first place, allowing them to cut it off at the source.
Our Expert Silverfish Control Technicians
Our technicians are trained to recognise the factors that lead to silverfish infestations, and they are very willing to explain the steps that can be taken to protect a house from them.
Silverfish are often a symptom of a larger problem in a household, often with rising damp, plumbing or some other structural deficiency, and London Insect Control will always point out the underlying problems that have led to infestation.
Our technicians know that removing silverfish does not stop at simply destroying the insects themselves, and they will always suggest measures by which the customer may keep their house dry and sanitary, even when those measures go beyond conventional pest-control means.